THE BACK PAGE
BIG SCREEN REVIVAL - HERE IS MY REVIEW OF THE EVENT IN OCTOBER 2017.
I listed two possible events in and around London in my last issue, sadly the BFCC Lite in Ealing had to be postponed because there was a Marathon going through Ealing on that day, and many roads were closed, so access would have been near impossible, hopefully a new date will be announced for sometime early next year. Now onto the event that did go ahead, it was The Big Screen Revival, once run for many years by Geoff Wheeler, we had a new organiser in David Tatham in a new venue of the Harvey Road School in Croxley Green. My friend Tony and I found it very easy, it's just a few minutes of the M25, and with easy parking, all was good right from the start. Just before 10 a.m. a ribbon was cut by Geoff Wheeler handing over his baby to a new organiser, and the doors were open. A nice crowd awaited, and we were in, there was a small entrance, on the right was the large Screen 1, then into the dealers hall, to one side there was a refreshments area, and at the back a small room for Screen 2. Many dealers were in attendance, even Perry's Movies had tables (nice to see Ian back in the fold), but at times as more people came in the small dealers room got very cramped, and I even heard one dealer saying she thought it could be a bit dangerous if too many were in the one room at once, luckily all I heard was a tray go over on the day, nothing more serious, so all was well, but perhaps David should look into hiring an additional room or two, to spread things out a bit if he does it again. The programs were split up between Screen 1 and 2, which apart from a fine demonstration of a hand cranked 28mm machine, the rest could have easily been shown in the bigger screen 1 (in my opinion, anyway!). We started of the day with that talk and screening of some 28mm films, which considering their age (100 years at least each print), were quite amazing quality, Chris Bird had his Victor Safety Cinema projector, modified with a more powerful light, it ran very well, and his hand cranking skills were very evident as the image was constantly at the right speed for the images seen on screen. Then onto good old super 8 with the Saturday Morning Picture Show in screen 1, where Simon McConway showed some great shorts like 'The Elephant Never Forgets' which looks at the last days of trams in London, and finished with the 'Cinema in Miniature' which looks at all things 8mm, from the dealers like derann and Perry's to the old Blackpool film weekends run by Derek Simmonds and his staff. Then we had a fine display of 9.5mm sound films in screen 2, then a fine Scope show in Screen 1 which included a couple of my old releases 'Once Upon A Time in the West' trailer was one, and finished with a long extract from 'Return of the Jedi'. Adrian Winchester told and showed us about a 16mm music system from the 1960's called Scopitone, which used mag tracks for the sound, but it was the quality of the films that were outstanding, although I didn't know anything about the majority of the acts shown, only Debbie Reynolds was really familiar to myself. We ended with a 16mm musical program compiled by Geoff Wheeler with many extracts from classic Hollywood musicals like 'Show Boat', 'The Zigfield Follies' and 'Daddy Long Legs' and ended with a trailer to 'That's Entertainment 3', well we really had be entertained during the day. It was well organised, everything went smoothly, I believe most of the dealers were happy, so lets hope we get another one next year, as I really enjoyed my day out, well done David for bringing it back to us.
65th BFCC 29th October 2016 - THE FINAL CURTAIN
As usual my friend Tony and I got to the venue well in time to get into the car park, we arrived about 8.20 in the morning, and there was plenty of activity with the dealers getting their wares out of the cars to set up in the dealers hall. I spied Tony Hutchinson with his 16mm films, Bruce Latham & Trevor Dawe who sold just about anything connected with film, and of course no London convention wouldn't seem right without (Standard 8) Ray Bruno, who looked to me to be putting more into his car than he was taking out. We sat chatting for about an hour and a half and we drifted towards the entrance, and when we got inside, we were told they were open early, and we could purchase our tickets. Apart from the dealers I mention earlier, Phil Sheard was in attendance, with a number of tasty prints on his stall, he had a copy of Disney's "Pinocchio" which was soon snapped up. But apart from buying one or two bits on the day, I had already done a deal for some features which I picked up on the day, so most of my money had already been spent. But I go to Keith's bashes for the varied film shows, and the meeting and greeting of old (and some new) friends, to have a good old chin wag (talk for our U.S. cousins).
We had plenty of time to look around as the first programme was scheduled for 11.15, now this is a firm favourite of mine, as Keith always puts in a cartoon, an interesting short and some great trailers, but more on that a little later. I think attendance was a little down on the April bash, but with the Blackpool convention only 3 or 4 weeks later, I would imagine some of those who travelled from distance to attend in April, just couldn't either make it or afford the travelling costs associated these days, which I do completely understand, but it would have been nice to see a few more make the effort. After many chats, and trips to look on the Bring & Buy stall, it was time for that 11.15 show, which started with a rare Tom & Jerry cartoon called Safety Second (1950), I've not come across this very often, and so was more enjoyable for myself, the story concerns Jerry telling young Nibbles (the nappy wearing Baby Mouse in quite a few T&J's) that he cannot play with Fireworks, although it was the 4th of July. But when Tom starts to menace the duo, they come in handy to deal with that pesky cat. Many a laugh was had at this cartoon, and it was a decent 8mm print too, I suspect this was one of Derann's many T&J releases. Then we went into three trailers one after another, first up was quite a long trailer to On the Town (1949) a cracking M.G.M. Musical, which broke new ground during filming, as this was the first big musical to actually go on location to New York to shoot scenes, and not just be studio bound, as was the norm, up till then. The trailer featured many clips of the songs, and a good bit of New York as well, it's amazing how young Frank Sinatra looked on screen (he would have been about 33-34). Next up was the fun trailer to Disney's animated classic The Jungle Book (1967), this trailer really packs in a lot of information, we get clips from the songs, as well as some of the humour from the film, it really moves along at a cracking pace. When Worlds Collide (1951) was the next trailer, and one of my favourite 1950's sci-fi's ever made, George Pal produced this, and the trailer builds up the tension, like the feature, of time running out, for man, and the manned mission to a new world, it's a cracking trailer, and well done to Keith to put it into the show. When then see a short on the re-opening after WW2 of the Cecil Theatre in Kingston-upon-Hull, after the original was bombed in 1941.
Then onto another 1950's sci-fi trailer, this time set in Scotland, it's the trailer too The Man from Planet X (1951) , it has the usual elderly scientist, a pretty young woman (who can scream, that's essential), oh and of course a nosey American journalist who's investigating a rogue planet on a near miss course with Earth, well they may have got the term 'Bug Eyed Monster' from this film, as the titular Man From Planet X looks just like something like that going by the brief glimpses in this trailer, definitely a 'B' movie (if not a 'Z'). Then we had two famous TV adverts from the 1970's, first we had the Pepsi advert of a 1950's looking teens, with the main character looking like 'The Fonz' from 'Happy Days', as he gets the girls in his open top American car, then it's onto the PG Tips Monkeys and the Plumber advert, where the last line is 'Pass me the Monkey Wrench' and the freeze frame of the face of the other Chimp, editing at its finest. This was followed by a nice Techno Films print of the Warner Bros. cartoon Ant Pasted (1953) where Elmer Fudd goes on a 4th of July Picnic, and has fun at first lobbing Fireworks at a nest of ants, but then the ants declare war on Elmer and fight back with Fireworks they have stolen from him. It's a fun cartoon, and one of the best solo Elmer Fudd cartoons ever made, and what I liked about this one was the fact that he didn't win in the end, which was funny on its own. Two more trailers followed, first was the delightful trailer to another Disney animated classic Peter Pan (1953), it really is a treat to watch these Disney trailers as so much time must have gone into editing a 2 i/2 minute trailer to encapsulate the true meaning of this film, with its songs, its humour and not to forget, its daring-do title character, it's one of my favourite Disney trailers. Next is another 1950's sci-fi Flight to Mars (1951), it's incredibly cheesy looking today, as five astronauts fly to Mars and find seemingly friendly aliens (in fetching 1950's attire), who have a more covert plan for us humans, but that's half the fun of it, when this was made Sputnik was years away, let alone putting a man into space, I liked it, but I am partial to a bit of cheese, now and then! We then had a small section with ABC Adverts and the like, then a reel I haven't seen all the way through for about twenty years or so, that was the Castle Films one reeler of The Bride of Frankenstein (1935), which is extremely well edited for its short running time, the titles exclaim Karloff as the Monster, but we don't see him until the last couple of minutes, as the cut concentrates on finding the suitable body, then the bringing to life of The Bride (Elsa Lanchester), who once again alive sees her intended for the first time, screams in horror (it reminded me of how I look after seeing myself in a mirror after I've got out of the shower, truly horrible!), when he realises that she's rejected him, the Monster goes on the rampage of destruction, as you do after being rejected by a good looking woman!
Another classic TV advert from the 1970's is next, it's the very popular (at the time) Smash Robots, this one is the parody of watching an Earth cooking programme as a comedy, as the presenter is seen peeling Potatoes, when you can get instant mash instead. Another colourful Hollywood musical trailer came next, Easter Parade (1948) was to have starred Judy Garland & Gene Kelly, but Kelly broke his leg in an accident, and it was his idea to ask Fred Astaire to take over the role, and everything clicked, the trailer is a whirlwind of colour, and song clips, with a little bit of dialogue along the way, it's a very typical 1940's trailer with the sweeping titles, that seemed to be on all trailers of this time (and into the 1950's). Now an unusual documentary from 1935 called Hollywood Extra Girl and it takes a look at the life of a Hollywood extra Suzanne Emery who is #1472 on the list of extras, she's called into central casting for extra work on Cecil B. DeMille's latest epic The Crusades, we see him talk to the girl, along with Ann Sheridan, it seems this documentary, and a small non talking part in the finished film was the sum total for our Hollywood Extra Girl, but it's a snapshot in time of how a movie set worked in the early days of sound films. And the final item on this most entertaining programme is a splendid Pathe Pictorial of California, obviously filmed in the early 1960's, this gives you a whirlwind tour of some of the State's most famous structures, buildings and roads, it was a nice print, again probably a Derann print, that was it, what a start to the day, and it only got better later on.
Next up was a 35mm show compiled by BFCC stalwart Kevin Wheelan, it featured items promoting the Children's Film Foundation films, the variety that was on offer, and of course the many Saturday Morning film clubs run by the big chains during the 1950's to the 1960's (I'm not sure many were still going in the 1970's, but of course I might be wrong, as usual!), very nostalgic, as I went a few times to my local ABC (Turnpike Lane, now a Bus garage, sadly) in the 1960's, where I remember seeing The Beatles film A Hard Day's Night for the very first time at one of these shows, now this was trailered during the previous weeks shows to get as many kids in as possible on the day, as this was a very big film for a Saturday morning kids show, and it worked, as I remember only just getting in to see it, ah, those were the days! That was the end of the film shows for an hour or so, so back looking around the dealers and back to the Bring and Buy for another look, and of course chatting with my collector friends, waiting for the next item on the bill at 2 p.m. After a few problems with the sound system, it was now history time for the BFCC, as we had two of the original instigators Stephen Herbert & Mike Smith talking about the very early days of the convention, they along with the late Paul van Someron had decided in late 1975 that they were going to hold a convention in 1976, we then saw a small homemade promotional film, of some of the highlights to come, but as Mike Smith as this was to be the first convention, he was really winging it in the film, they had some strong ideas, but until the first one was held, who knew if it would be successful. The first BFCC was a great success, even if there were no dealers present at this time, and with super 8 package movies going from strength to strength further BFCC's was inevitable. We had another film shown which was the history of the first nine years, with filmed footage from most years included, it brought back many memories, especially when footage was shown from Home Screen Scene '79 at the Rembrandt Hotel in London, as this was my first ever convention I attended, and what an eye opener that was, as I had mainly been hiring films from Perry's Movies at Wimbledon, along with the odd purchase I really wanted to keep, but when you saw all those dealers in one room, and with the wide variety of titles to be had, it blew me away, and some 37 years later, I'm still buying films for myself (along with a little dealing, as I have to make a living) and thoroughly enjoying myself. Luckily for all the people in attendance for this talk and film show, I only saw the back of my head in one of the years, otherwise the old "H" certificate would have had to be wheeled out of mothballs. We then saw the Film 86 segment that highlighted the current success of Super 8, we visited the Keith Wilton emporium (didn't Keith look rather young) where at time of filming had 3 very busy super 8 rooms in the house, as Keith's two sons enjoyed their own movies in their rooms, while Dad had a whole room dedicated to films, of course this was a few years before the transformation of his basement into the famous 'Sprockethole' screening area. We then moved onto one of the Derann Open Days, where the late great Derek Simmonds was interviewed about the resurgence of Super 8, there were shots of the auction, and even a brief look at his home screening room, it's amazing what can fit onto a 50' spool.
After all the nostalgia of the early days, it was onto the show I was really looking for, the Scope show on the 24 foot wide Scope screen, with a selection of some of the best scope releases ever released. The show kicked off with a lovely extract from the Cineavision release of 2001: A Space Odyssey (1968) although it had a little fade, it was still fun to see it on the big screen again, the extract was taken from the part of the movie where the shuttle is about to dock with the spinning space station, but what makes it even more memorable is that lovely music from Strauss, it was the perfect music to accompany the visuals, just perfect. Then two extracts from Supergirl (1984) which really showed off what scope can achieve, as we saw the complete sequence where Supergirl flies for the first time on Earth, then we saw another sequence where she deals with some bullies, and shows off her super powers, I've always enjoyed this film, the critics at the time didn't like it much, but I thought Helen Slater was very good in the part, and OK the story was a bit on the light side, I still liked it. Poltergeist (1982) was next, the extract shown was from the very late part of the film, this where they think everything was now fine, the Mother is relaxing in a hot bath, the kids had gone to bed, but you just know that something bad is about to happen, one of the boys toys was first on a chair at the end of the bed, then just disappears, we start to see light emanating from under a cupboard door, it explodes open, and everything starts getting sucked in, the kids scream, the Mother tries to get into the room, she's thrown backward by an unseen force, eventually she manages to get the door open, and by this time the kids are holding on to bed clothes trying not to be pulled into the closet, by sheer will she manages to drag them out, runs down stairs, to start seeing the house collapse into itself, the house you see, was built on an ancient graveyard, but the company responsible for the houses only moved the headstones and not the bodies, and the spirits got reel pissed, as you would do! The quality of this Kempski or Derann print is great, and the film is just as terrifying as when it was first released. Last but not least was the first 11-12 minutes from the Ridley Scott directed Gladiator (2000) the film starts in Germania with General Maximus (Russell Crowe) ready to send his legions against the barbarian hordes, I've always liked the line from Maximus to one of his junior officers, on my command, unleash hell, which isn't a bad description on the battle that ensues, this kind of film is what scope is good at portraying, those massive set pieces that every blockbuster has to have, I wish it had been brought out full length instead of the 2 extracts we eventually got.
Back to academy ratio for the rest of the day, next on the bill was the excellent Derann double album of They Died with Their Boots On (1941) which was expertly reduced to about 32 minutes by Keith Wilton himself, and what a job he did back in the day, the story and action flows very well, all the main points of General Custer's varied military career are included as well as his famous demise at Little Big Horn, Errol Flynn & Olivia De Havilland are again both first class in their roles of George Armstrong Custer and his wife Elizabeth, if you don't have this in your collection, then I urge you to find a copy, it's that good. I love Laurel & Hardy and Keith normally adds at least one short in his shows, and today's offering was the brilliant Laughing Gravy (1931) where the boys keep a little dog (Laughing Gravy, of the title, I wonder where his name came from!) in their apartment against the landlord's ruling of no pets. It's late into the night, Stan is asleep, the dog is asleep, but Ollie can't drop off because Stan is making a funny noise every few seconds, even the dog wakes up. Ollie wakes Stan, and gives him some water, will that work, by now the landlord, who lives directly below the boys, is woken, and when the dog starts barking, he rushes up stairs to confront them about the dog noises. Ollie has an idea, put the dog up the chimney, and make out it was Stan who was barking, that kinda works once, but as they go to get the dog down, he's climbed up the chimney onto the roof, well you may be able to work out what comes next, Stan goes up to get the dog, the chimney collapses, they are all covered in soot, and guess what it's also snowing, well one thing and another convinces the landlord to immediately throw the boys out into the snow, dog in tow, but just as the boys are going out of the door, a Policeman walks in and quarantines the building, as a case of mumps means no one from the building can leave for weeks. Well that was the last straw for the landlord, we see him rush into his room, and off camera you hear a gunshot, and the boys dip their hats in mourning. To think this was made 85 years ago, and everyone in the audience were laughing out loud, just shows you what an unusual talent we had in this pair of comedic actors, the scripts, the timing, and most importantly the acting was superb, long live Laurel & Hardy, the fans will never forget them. Next up was a one reel version on 16mm (a brand new print as well) of Hitchcock's Psycho (1960), a real nice print, I'd not seen this cut before, but it had most of the memorable bits in it, the shower scene etc., but with a limited running time of about 10 minutes, it did feel a little rushed, but enjoyable. Then we had another 35mm show compliments of Kevin Whelan again, this had a lot of old advertising items from (what looked like) the 1950's and 60's, all entertaining in their own right. The very last show was the complete A Grand Day Out (1989) which turned up on a well known dealers second hand lists a few years back, of course Wallace & Gromit in their first adventure, as they looked to find cheese on the Moon, as you do, build a spaceship, light the touch paper and go, just brilliant, another BFCC comes to an end.
DERANN AT PINEWOOD DVD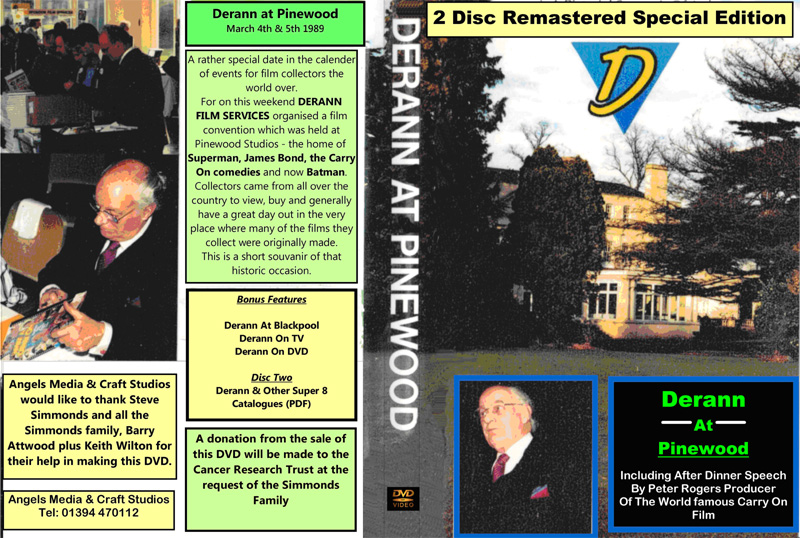 Picture & Sound has been re-mastered from the Derann master tape
(The Sound is now actually in-sync)
For Each DVD Sold A Donation Will Go To Cancer Charities
(As requested by the Simmonds Family)
You Get the Main Attraction of Derann at Pinewood
This covers the Saturday Evening Meal with guest speaker
Peter Rogers producer of the "Carry On" Films +
 footage from the Sunday convention
3 Bonus items included are:
Derann at Blackpool – Derann on TV – Derann on DVD
2 Disc Set @ £10.00p + £1.50p P&p (Europe £4) PAL ONLY
(2nd disc is for your PC, and contains PDF Derann & Other Super 8 Catalogues)
CALL 01992 652792 for CREDIT/DEBIT Card Orders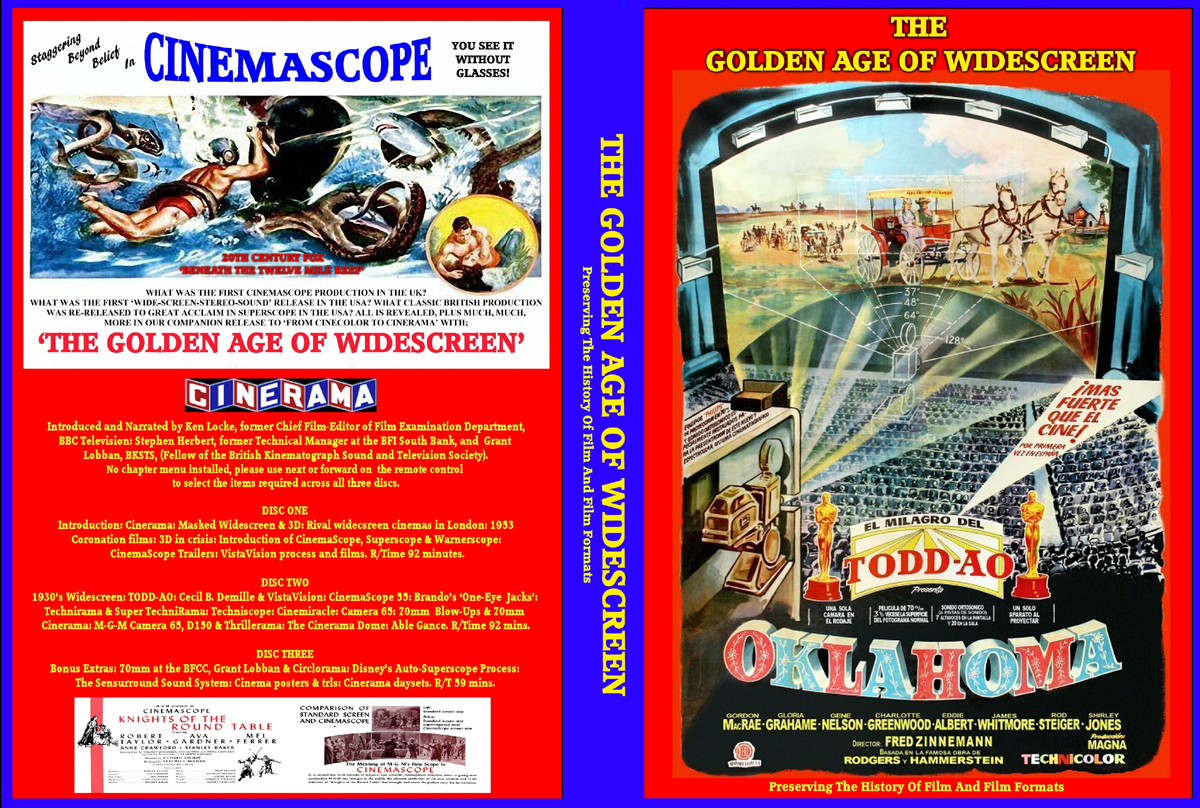 The Golden Age of Widescreen
This new Filmtek release comes on either 3 Blu-ray Discs or 3 DVD's, the price is the same, an amazing value for money £19.99p, the price even includes p&p for the U.K. (£4 Europe). I'll now go into more detail of each discs contents, but as each disc is jammed packed with clips, technical details and general information, I may have to miss out one or two things, as space is limited, and anyway it's fun finding things that are not in a review, anyway, I'll do my best to sum each disc up!
Disc One: 1 Hour 30 Minutes
The disc starts with some shots of some of the all time classics like 'King Kong' etc. all filmed of course in the standard academy format, it's the last part of the 1940's going into the early 1950's, television is cutting into movies audiences, the slow demise of the big studio system where stars are on long contracts, has started, but all this has had a happy outcome, as the film industry has had to become inventive to keep their audience, and the birth of Cinemascope and a myriad of other widescreen systems, and not forgetting, as this is now the early 1950's, the 3-D movies that defined the early to middle 1950's. We see clips of the enormous 3 panel curved Cinerama screens, but these specific screens were only in small numbers around the globe, and were very dear (and sometimes I'd imagine awkward to use, 3 projectors in sync at all times!) to maintain and use. 1953 saw the release of 20th Century-Fox's 'The Robe' as the first F/L Cinemascope production, followed by new releases like 'Knights of the Round Table' & 'King Richard and the Crusades', note all these early Cinemascope productions are big scale stories, able to fill the big widescreen of Cinemascope with spectacle and the odd full on battle, of course with Cinemascope films, you didn't need any special glasses to watch them, which is heavily promoted throughout the early trailers for these films. We then see Stephen Herbert talking about how film logos and music was used to full effect, we see the trailer to 'Beneath the 12 Mile Reef' a groundbreaking underwater adventure, the trailer is mainly visuals accompanied by stirring music, screen captions, and a narrator just to cap it off. By now Cinemascope was branching out into other stories, we see the trailer to the romantic drama 'Three Coins in the Fountain'. Although Cinemascope was a very wide process (2:55/1 etc.), widescreen also means like today formats wider than academy, and Universal International brought out in 1953 the James Stewart adventure 'Thunder Bay', and this is the first ever 1:85/1 widescreen feature, much wider than academy, and able to be shown on very large screens for maximum impact. The new fad of the day was 3-D movies, and most of them were shot in the 1:85/1 aspect ratio, the man in the rubber suit 'Creature from the Black lagoon' was one, thus giving a more thrilling 3-D experience. Although 3-D was very popular, you still had to wear those funny glasses to watch it, and we are shown clips from the Cinemascope production of the Marilyn Monroe & Robert Mitchum adventure 'River of no return' (my personal Marilyn favourite) with the epic vistas and magnificent Canadian scenery used in the film, it still looks marvellous over sixty years since shot. 1953 was of course a Coronation year here in the U.K., and most of the major studios vied to get coverage, and beat each other to get it onto cinema screens as quick as possible, 20th Century-Fox released in Cinemascope 'Coronation Parade', and there was a lengthy documentary of the Queen's first 'Royal tour of the Commonwealth' again in Cinemascope. But 3-D was not yet dead (perhaps slowly dying from a stab wound in a corner), there were many films scheduled to be 3-D efforts, but were filmed flat for one reason or another 'The War of the Worlds' the George Pal production was one, but many 3-D films were still being made, and we see the actress Rhonda Fleming talking directly to the screen about her latest 3-D film 'Inferno', which turned out to be one of the best 3-D films ever made, as it had more than just things being thrown at the audience, a rarity for a 3-D movie, a good story, and script to boot! It's the story of a tough hard-driving business tycoon who suffers a broken leg, and is left in the Desert to die by his scheming wife and her greedy lover, but you know what will happen in the end, but it's fun getting there. But 3-D was all but gone by the end of the 1950's, although it would still crop up from time to time over the years ('Jaws 3-D' comes to mind), but it took the dawn of the digital era for it to come back in a very big way (and I think the novelty is starting to ebb again, you've still got to wear those annoying glasses). As the 1950's went on out came other widescreen systems, one of the best was Paramount's VistaVision process, which used the full width of the 35mm frame, but shot with the film running horizontally through the camera gate, which garnered a bigger field of vision and depth of focus, and in turn a finer grained projection print was manufactured, we see a trailer to the very first VistaVision release 'White Christmas', which still has a fond place in a lot of people's hearts. Even Rank had a go at using VistaVision and in 1955 they brought out there first effort a comedy romance with Diana Dors & John Gregson called 'Value for Money', I can't say I've ever seen it myself, but it must have been a big Rank production of its day to use the new process (it wouldn't have been cheap to use VistaVision). Rank also produced Cinemascope titles like 'Northwest Frontier' starring Kenneth More & Lauren Bacall which was released around the world under various names ('Flame over India' in the U.S.). Another non anamorphic process used a lot in the 1950's was called Superscope,(later bought out by Warner Bros., who re-dubbed it Warnerscope) which used the full 35mm frame, then cropped and squeezed in the laboratories to get anamorphic release prints, but there were teething problems of course with any new process, but some studios, like Disney used the fact that the process used full frame negatives to work from, in the late 1950's a Superscope version of 'Fantasia' with an all new stereo soundtrack was released in Superscope, although only a handful of theatres could show it properly as Disney had given the film many different aspect ratios for many sequences. and a motor driven lens was need on the projector to keep every part in the Disney stated correct ratio, it wasn't really successful though. We then see a couple of very interesting B/W segments, the first sees John Wayne on TV, talking about how the Cinemascope cameras work, then we see how many sound effects were produced for the 1956 movie 'Helen of Troy'. The Cinemascope format produced many popular films of the 1950's, one of my favourites featured is the James Stewart Western 'The Man From Laramie', but VistaVision was still very popular too, with the magnificently filmed 'The Pride and the Passion', perhaps one of the best photographed VistaVision productions ever, and the odd re-formatted Superscope release was thrown in, this time Laurence Olivier's magnificent 1944 production of 'Henry the Fifth' getting the Superscope treatment, which seems in this case to have been quite successful, as the way Olivier filmed it to show as much imagery as possible suited the cropping process used, and this was deemed a worthy venture.
Disc Two: 1 Hour 32 Minutes
It wasn't just the 1950's that attempted widescreen formats, the 1920's and 1930's all had various forms, in 1930 the Johnny Mack Brown & Wallace Beery western was shot in a process called Magnascope, it was filmed using 65mm stock, and when projected could be as much as 4 times the width of the usual image. The 1930 horror thriller 'The Bat Whispers' uses the same 65mm imagery , and is an eerie little movie. John Wayne's first leading role 'The Big Trail' was filmed in the grandeur of a 70mm widescreen process (later duped to 35mm scope), actually two versions of the film were produced, one with the 70mm camera, and the actors did it all again in front of the normal 35mm camera, and as the 70mm could not handle close ups at the time, the 35mm version had a different edit, with close ups now included in the narrative.  Founded in 1953 by Mike Todd, his company in association with American Optics came up with another non anamorphic 70mm widescreen process, called aptly Todd AO, here we see the system explained, how its optics work, and the chance to add more oomph to sound recordings with up to 6 channel stereo mixes. We see extracts from 2 Todd AO productions, 'Oklahoma' & 'South Pacific'.  Next up from Fox was Cinemascope 55, which used a 55mm negative, thus giving a larger area for filming and affording a greater degree of definition, although shot on 65mm, no release prints were struck at this size (too much money to convert or build new projectors, I would assume), 'Carousel' was the first title filmed, and was a blockbuster, although all the prints struck were on the conventional 35mm stock, next up another musical blockbuster 'The King and I' was shot on 55mm, but this did have a limited release in 70mm as well. VistaVision wasn't dead though, with Cecil B. DeMille's epic 'The Ten Commandments' in 1956, and the ludicrously over budget Marlon Brando Starred & directed 'One Eyed Jacks' in 1961 (many people think this was the best ever filmed VistaVision movie), it still was popular in Hollywood, although now better film stocks had started to filter through, it wasn't as popular as before. Next up was Technirama, another scope process invented by Technicolor, it has the screen ratio of 2:35/1 (like the later Cinemascope productions) and had a filming area twice that of the Cinemascope process, so it produced really detailed and sharp images, we see clips from some Technirama films, like 'The Big Country', 'Zulu' and the classic Disney animated 'Sleeping Beauty', then came Super Technirama 70, a 70mm version, and one of the best (or worst, as some critics called it) filmed in this process was 'Fall of the Roman Empire', with the largest outdoor sets ever constructed, filling the giant 70mm widescreen frame. Then popped up Techniscope, the poor man's (producers) cheap scope process, it uses only half the image of standard 35mm film, it's filmed flat and squeezed in the labs for the release 35mm prints, it did mean that there would have to be some loss of quality, but there were quite a few big hits filmed in the process, from Clint Eastwood's 'For a few Dollars More' to the two big screen versions of the BBC's 'Doctor Who' and ITV's classic children's series 'Thunderbirds', but the system was mainly used in Europe, although American films like 'Madigan' used it as well. 'Ben-Hur' was filmed in Camera 65, this was M.G.M.'s own widescreen baby, which seemed to morph into Ultra Panavision 70 for Marlon Brando's 'Mutiny on the Bounty', and later a similar format was used at Columbia for 'Lawrence of Arabia'. There are other widescreen systems explained as well, most of which I'd never heard of (Dimension 150, anyone!), all with excerpts or extracts to show what they would have looked like on the big screen, we even see clips from the epic Russian version of 'War and Peace' with thousands of Russians soldiers as extras.
Disc Three 59 Minutes
Now we look at the various home formats shown at the many BFCC's over the years, from super 8 to 70mm, it's all been shown at one time or another, we see John Clancy in the balcony using his high powered Elmo GS1200, we see clips from some of the technical talks given over the years. We then look at the many different sizes of film gauges, the novelty cinemas like 'Circularama' which was located in Piccadilly Circus in London, this used 11 projectors at once, to fill 11 screens, separated by a small aperture, enough for the 11 projectors to show each film, it even had a kind of 9 channel surround sound system. Todd AO's production of 'Around the World in 80 Days' had a long run at the Astoria in London in the 1950's. New ideas were around in the 1970's as well, with Universals Sensurround sound effects system, first used for their disaster blockbuster 'Earthquake', it generated very low frequencies, and had the ability to literally shake the audience in their seats. I actually saw 'Battlestar Galactica' at the Empire Leicester Square in Sensurround myself, and thouroughly enjoyed the experience, but there was only a handful of films in this system 'Midway' & 'Rolercoaster' and was dropped after that. Also on this disc are some high quality scanned posters to look out for, they nearly pop out of the screen at you. Then as most Filmtek releases end, we have a fine selection of trailers for the remainder of the disc. 'Journey to the Centre of the Earth' with James Mason, 'Prince Valiant' with a very young RJ Wagner, 'Forty Guns'  the Samuel Fuller directed western adventure with Barbara Stanwyk. Then we see a brilliant Cinemascope trailer to 'Voyage to the Bottom of the Sea' with Walter Pidgeon, Peter Lorre and the sexy Barbara Eden, next up 'The Man Who Never Was' a truelife WW2 story, how the British tried to fool Hitler into weakening Sicily's defences before the allied attack in 1943. 'The Unforgiven' is next, it stars Burt Lancaster & Audrey Hepburn in gritty western drama, then the brilliant trailer to David Lean's spectacular 'Doctor Zhivago', 'Will Success spoil Rock Hunter' is a comedy starring Jayne Mansfield and Tony Randall, then two trailers I'd never seen before, 'Hell and High Water' starring Richard Widmark, then 'The Eddy Duchin Story' starring Tyrone Power, a musical looking at the famous pianist and bandleader. 'Knights of the Round Table', ''The War Lord' and a promo trailer to the 3rd true Cinerama production 'Seven Wonders of the World' finish the disc.
Keith Wilton (Mr. Filmtek) has done it again, this is just simply breathtaking work, and every disc is well balanced with information, stories and clips. The master materials used is nigh on perfect, or as best he could find, and in my opinion the best release he has ever put together. The technical side to me is mesmerising, I just don't know how he can add all the curved screen effects, let alone the pristine transfer of many varied film elements he would have had to use. I bet there are many sources used to compile these discs, form more recent digital release to the old fashioned (and best!) projection images over many gauges, heartily recommended, as there is something of interest for everyone to be found here.
Here are a couple of quotes from owners of this title –
Epic! Colossal! Magnificent (John Adey – Australia)
Has all the appearance of having been made by a major studio (Kevin Wheelan – U.K.)
3 Disc Blu-ray or DVD
£19.99p
FREE p&p U.K. - £4 Europe
For Credit/Debit Card Orders Tel: 01992 652792
DVD REVIEW - SUPER 8 GOES TO THE MOVIES Pt.2 - By Barry Attwood
RELEASED 1st APRIL 2014
This is the 2nd release under the "Super 8 Goes To The Movies!" banner, and once again consists of 2 DVD's each running a little over 1 ½ Hours, packed with cartoons, adverts, trailers, newsreels and more. There is even picture steadying and colour correction used on some of the older items, which gives a very steady image, especially the vintage subjects on show.Keith Wilton has even managed to save digitally over 20 rare 35mm trailers that were suffering from 'Vinegar' syndrome, and you'll see on Disc Two what went on to save these trailers, the results are pretty good considering how bad many had suffered over the years, and I doubt you'd see these particular trailers anywhere else but on this new DVD. I'll go into more detail below:
DISC ONE
If you've ever been to one of Keith's brilliant BFCC's then you'll know about the traditional first show of the day (if you haven't, this will give you a flavour of the convention, at least!), it's a mixture of cartoons, adverts, a newsreel, usually a Pathe Pic (or the like), and of course some brilliant trailers along the way, well this first disc is exactly like that, just a little extended in running time (1Hr 31Min). There's a two part advert for Diamonds from the early 1980's (De Boers, I think, look out for a very young Linda Robson (Birds of a Feather) in the 1st), there's a couple of colourful Pathe Pics from the 1960's, and at the end of the disc there's some rare Scope trailers (Japanese Monster movies, WW2 and even a Star Trek trailer), the time just flies by, and then it's onto:-
DISC TWO
This disc is a mixture of 16mm and 35mm items, which include those rescued 'Vinegar' syndrome films, more on them later. The disc starts with some cracking 1960's B/W Walls Ice Cream adverts, it's amazing the variety being advertised, then it's onto a very early (1934) B/W Fleischer 'Popeye' cartoon "Shiver Me Timbers!", as Popeye, Olive Oyl & Wimpy encounter a true 'Ghost ship', brilliant early animated fun. There's a rare WW2 Ministry of Information film called "Miss Grant Goes To War", which shows the perils of Nazi Paratroopers dropping into the English countryside, and trying to blend in with their proper English accents, but as the film states, there are ways to find out who they are, as they always make silly mistakes, and give the game away. I suppose when this film was made, invasion in one form or another was taken very seriously, and this told the message in a way most people could understand, now very rare indeed. There's a nice newsreel from WW2, more adverts (colour & B/W) then it's onto the restored 35mm trailers. We get a voice over from Ken Locke on how these 'Vinegar' syndrome films were saved for this DVD, the syndrome over time breaks down the cellulose, warping the film until nearly impossible to project. Keith's answer was to put as much tension on the tele-cine gate as he could get away with, thus flattening out the picture image as much as possible, some items were even scanned backwards, then the best elements were composited in the PC into the best image and sound for each individual trailer. When you see the demonstration at the beginning of how bad they were, and when you watch the finished results, Keith really is a wizard at what he does. Most of the trailers rescued I'd never heard of, like "Battle Flame" – "Slave Girl" – "Paratroop Command" and there's many more like that. Then we're treated to some perfect 35mm Scope trailers, with stars ranging from Boris Karloff, Walter Matthau & Kirk Douglas.
This new double DVD set is excellent value. Recommended.
New Filmtek Release - Super 8 Goes To The Movies Part 2
TO BE RELEASED 1st APRIL 2014
2 DVD Set [PAL] Priced @ 15.00p +£1 p&p (UK), £3.50 (Europe).
This item will be dispatched separately from any Independent 8 order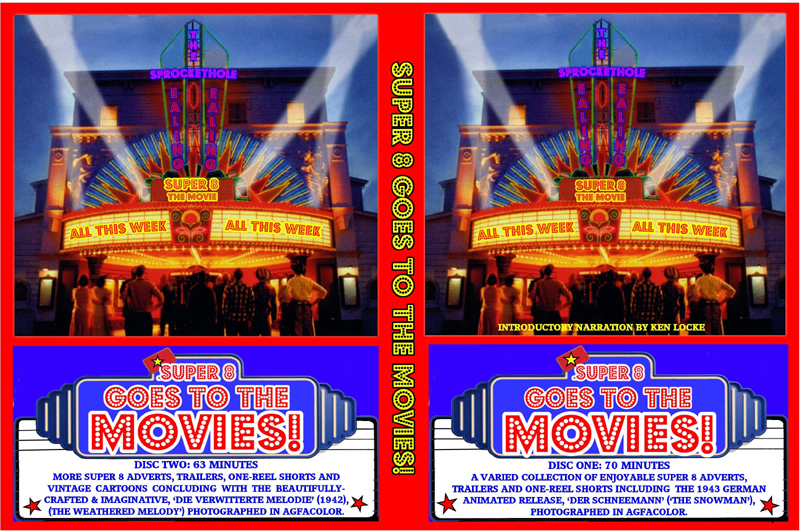 Still Available - Part 1 of 'Super 8 Goes To The Movies'
2 DVD Set [PAL] Priced @ 15.00p +£1 p&p (UK), £3.50 (Europe).
This item will be dispatched separately from any Independent 8 order
ALSO AVAILABLE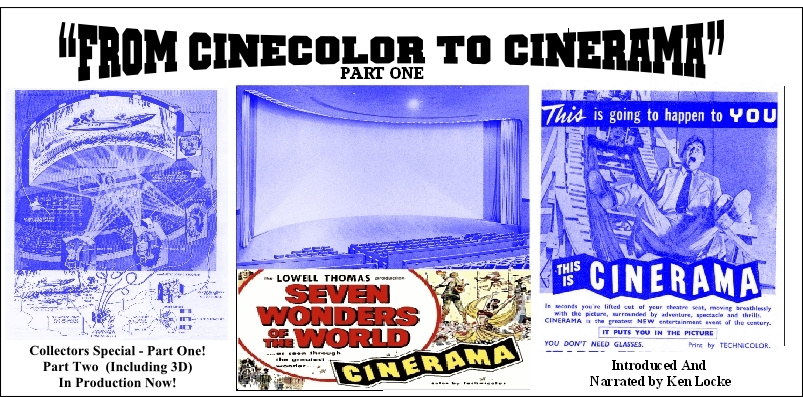 2 DVD Set [PAL & NTSC Available] Priced @ 19.95p plus £1 p&p (UK)
This item will be dispatched separately from any Independent 8 order
ALL OTHER FILMTEK RELEASES ARE NOW AVAILABLE VIA
Independent 8 @ £19.95 plus £1 p&p (UK)
All the above DVD's will be sent separately to any Independent 8 order

Independent 8 Front Page
8mm Sales List
Equipment Sales List
Order Form

[HOME]&nbsp [NEWS]&nbsp [HISTORY]&nbsp [NEXT]&nbsp [PAST]&nbsp [HOME CINEMAS]&nbsp [GETTING STARTED]&nbsp [SUPER 8 FILM REVIEW]&nbsp [FILMTEK]&nbsp [LINKS]&nbsp [CONTACT US]&nbsp