"THE LAST PICTURE SHOW"
The Super 8 Saturday Morning Show from the last BFCC - the 65th on 29th October 2016 - transferred using the latest Filmtek HD film transfer equipment and available now on Blu-Ray and DVD. Two of the 65th 35mm shows are also included along with the highly acclaimed Saturday Morning Show from the celebratory 50th BFCC way back in October 2005. This is a production the avid film collector will not want to miss.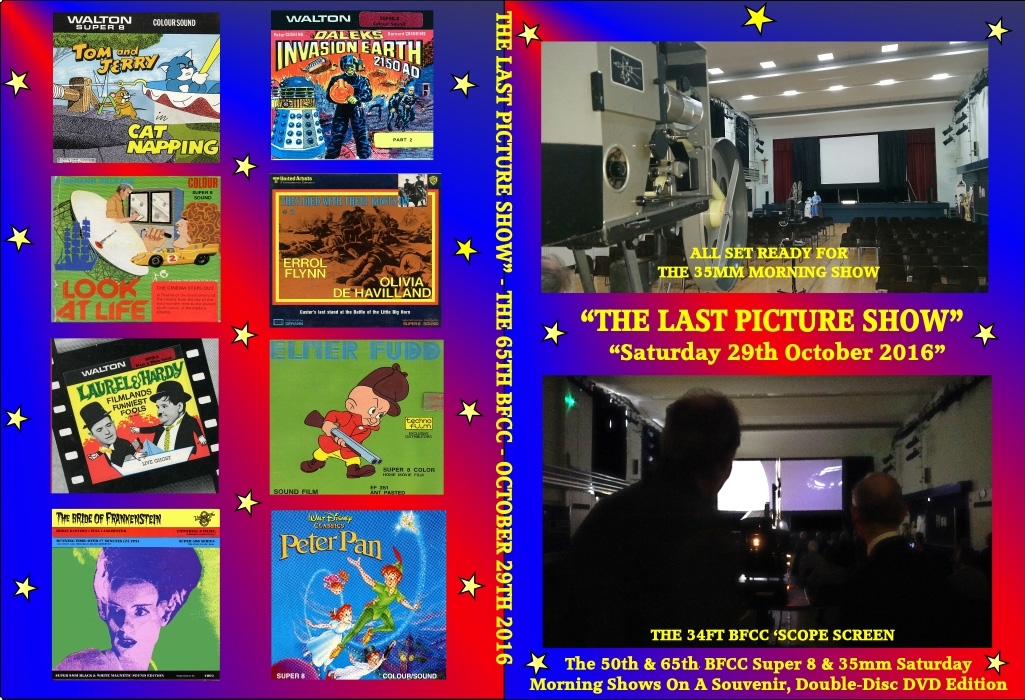 "THE GOLDEN AGE OF WIDESCREEN"
"So you think you know all about widescreen? THINK AGAIN!" (John Bird)
"They say 'they don't make 'em like that anymore' - well they do! Ran the chock-a-block three discs TWICE in two days!" (Neil Daft)
"Amazed at the BD quality and the comprehenisve research: The commentary and choice of clips give the appearance of having been made with all the resouces of a major studio! Compulsive viewing!" (Kevin Wheelan)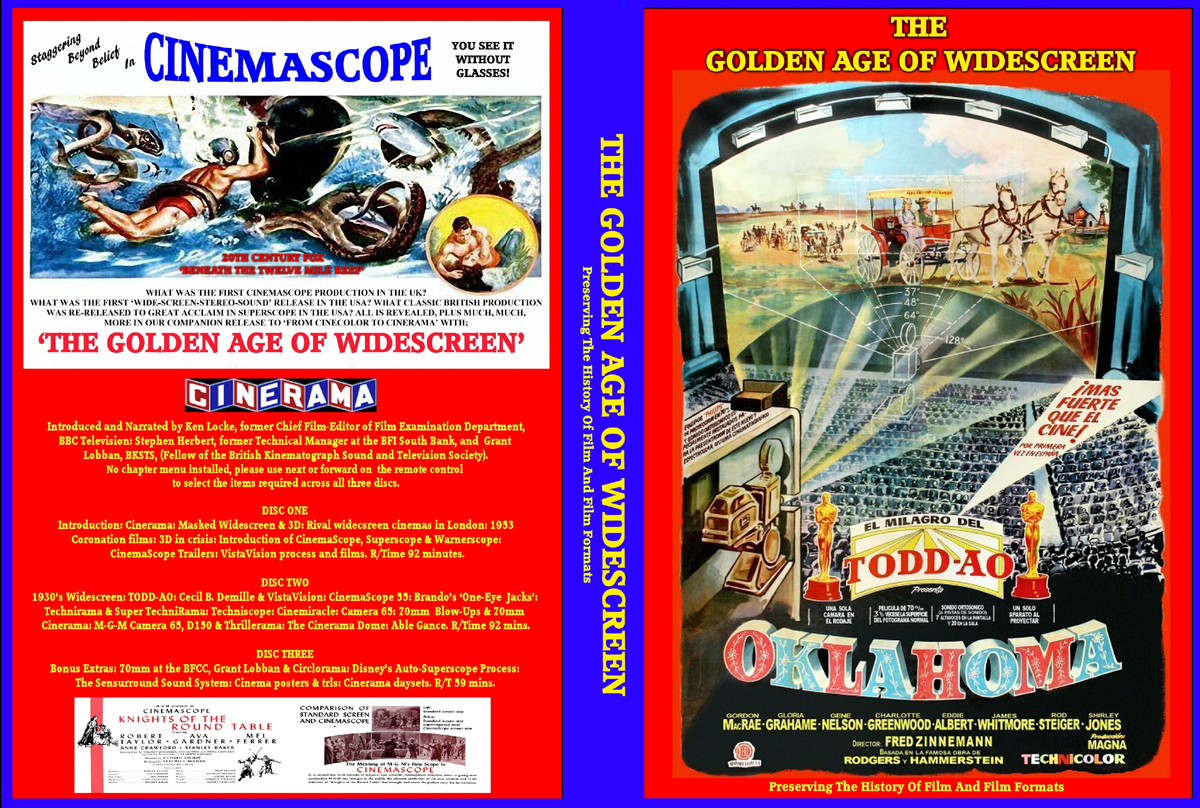 ORDER VIA THE FILMTEK SHOP HERE.
The history of all those fabulous widescreen processes including Cinerama. A three disc-set release. Totally compulsive viewing!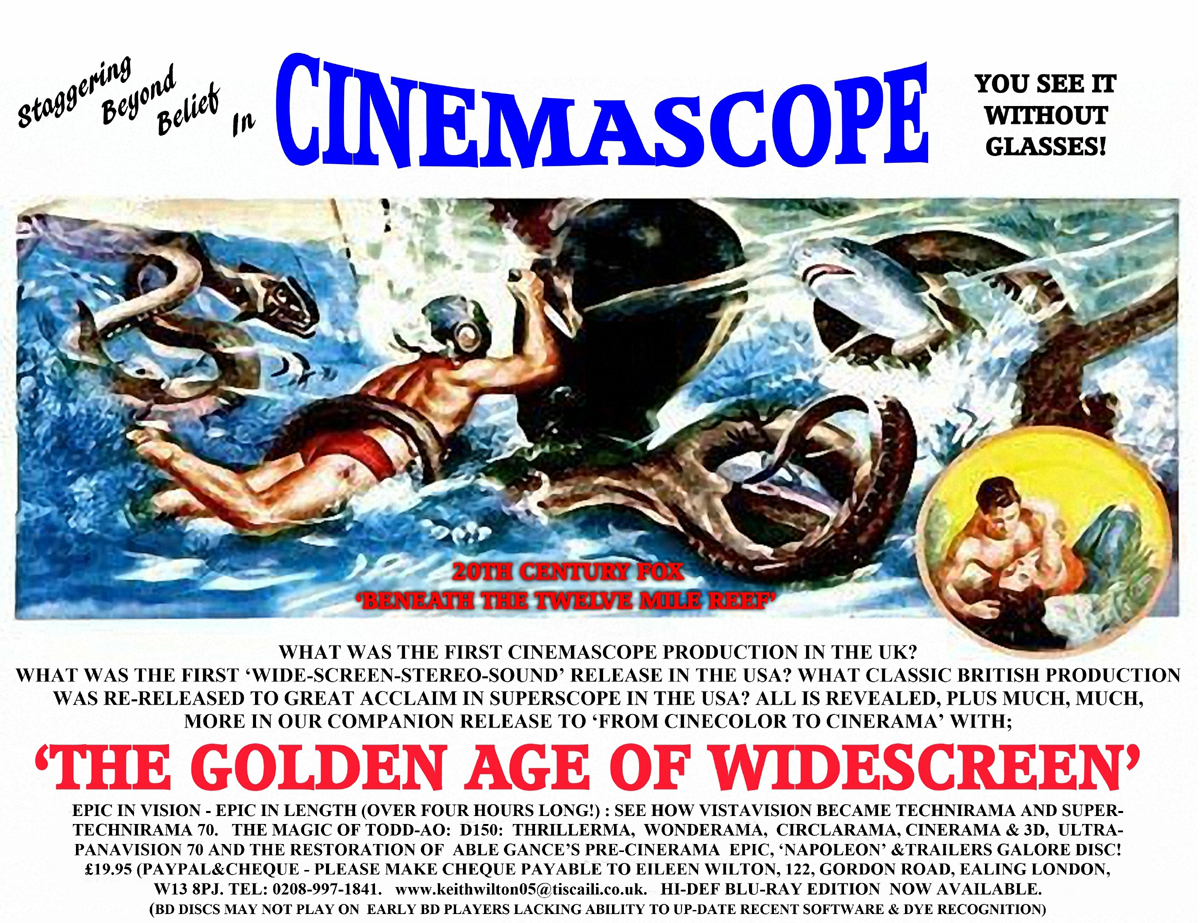 "SUPER 8 GOES TO THE MOVIES"
PARTS ONE & TWO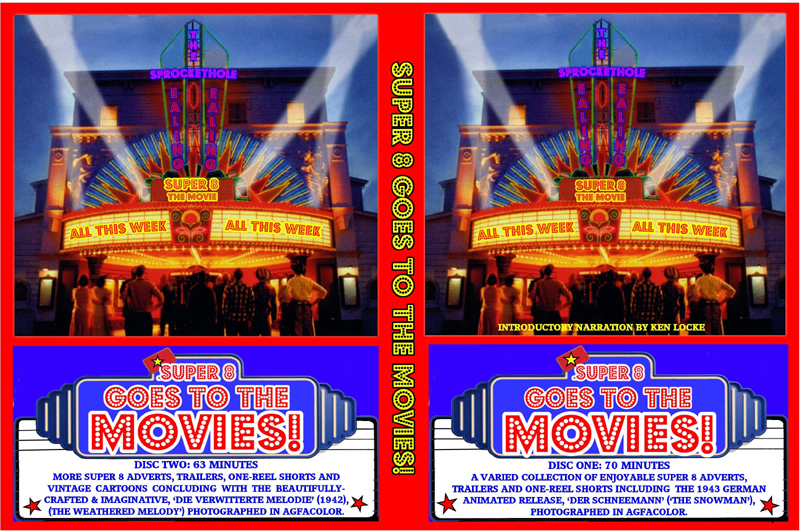 ORDER VIA THE FILMTEK SHOP HERE.
TURN YOUR TV INTO A CINEMA WITH "SUPER 8 GOES TO THE MOVIES!"
BOTH RELEASES IN THIS SERIES ARE ENTERTAINING TWO-DISC DVD SETS WITH WELL OVER TWO-HOURS RUNNING TIME FILLED WITH SUPER 8 TRAILERS, ADVERTS, CARTOONS AND ONE- REEL SHORTS. THEY EVEN COME COMPLETE WITH 'DIGITAL PROJECTOR' INTRODUCTION NARRATED BY KEN LOCKE - YOU JUST SUPPLY THE SEATS AND POPCORN, WE'VE DONE THE REST!
PART 2, DISC 2 INCLUDES MATERIAL SOURCED ON 16mm AND 35mm.

FROM CINECOLOR TO CINERAMA
ORDER VIA THE FILMTEK SHOP HERE.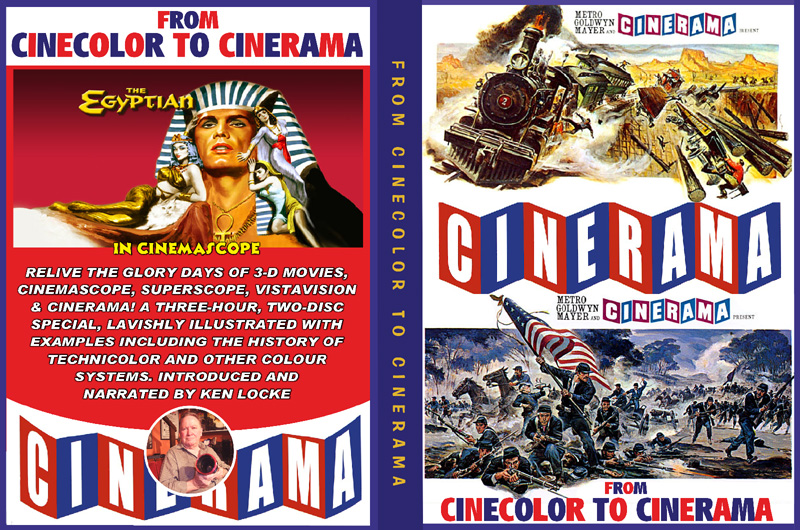 Never heard of 'Thrillerama', 'VastVision', 'Atomsmasher' 'Cinemagic' or the pre-World War II optical musical-soundtrack Radiogram? Which long-forgotten film pipped 'The House of Wax' to become the second 3D feature film premiered in the UK? From Cinecolor to Cinerama is a glorious extravagaza of screen shapes, sizes and colour film systems with background information including rare items on 3D and anamorphic film processes - coming soon to a screen near you!