A sound projector and a screen are the two basic requirements of any home cinema. A good second hand Super 8 or 16mm projector can be picked up for as little as £50 whereas a screen could cost you nothing if you have a decent white matt emulsion wall. There is nothing better to project onto than a flat white wall - and a bit of matt black emulsion for the screen surround can give you an instant home cinema appearance for very little outlay. The results from this can be astounding. If a white wall is not possible or a proper screen is preferred then film dealers will be able to help with tripod arrangements or The Widescreen Centre are worth contacting for made to measure roll down examples etc..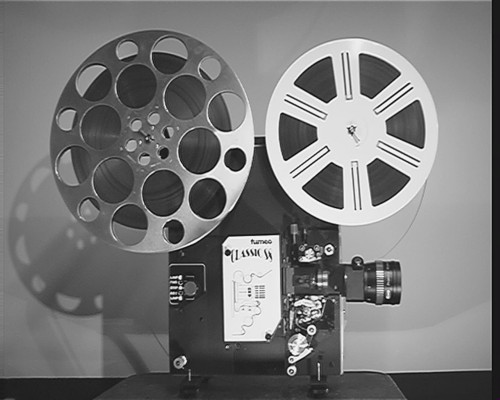 The more you are prepared to spend the better your setup can be. Phil Sheard of Classic Home Cinema has arranged a brand new stereo Super 8 projector from Fumeo for around £2,500 (see review). This machine is designed as a workhorse to last for years. Good second hand stereo projectors can be picked up for as little as £200 - £400 (e.g. Chinon SS-1200, Elmo ST1200HD) or over £1,000 for the Elmo GS-1200 which can provide pulse sync sound allowing you to synchronize a Super 8 feature with the digital soundtracks of the latest DVD. The GS-1200 therefore currently provides the ultimate cinema experience in the home, however, it should be noted that spare parts are becoming a bit scarce in some cases.
Cinema tip-up seats, moving curtains and masking can add to the impact of your home cinema. These can all be surprisingly easy to obtain and install. Filmtek do a series of four 'Armchair Odeons' videos which not only show other home cinemas but also in many cases how the results have been achieved.
Here is an example of a starter home cinema...
Aggers Picture Palace.
I was fairly content with my (so-called) home cinema set-up and then I met BFCC technical co-organizer, John Clancy.
It would be true to say that I was fairly proud of my modest set-up; Sony Vega widescreen TV, Sony 5x100w DTS AV amp, top end Pioneer DVD player; top end JVC S-VHS VCR and a hefty set of Mission speakers. I thought I was the bees knees; what gadget conscious lad in his early 20s wouldn't be? I was convinced that I had a home cinema, but I knew something was missing, I desperately needed a "big screen fix".
I started to investigate video projection in all its various forms, it was around this time that I met John Clancy. So there I was at work devising ways to part with my hard earned cash so that I could own the latest DLP technology thingy-me-bob and this chap Clancy is trying to convince me that Super 8 is the way to go if I wanted an affordable big screen fix.
"Super 8?" I thought, didn't my parents have one of those in our old Austin 1800, no that was 8 track. I was truly ignorant to the world of "reel" home cinema and film collecting and continued my search for an affordable big screen DVD projection solution. I even had a few projectors demonstrated in Tottenham Court Road and much to my disappointment all the ones that I could afford looked rubbish at anything over 4 foot across, it was like watching a movie through chicken wire, not good at all, things were not going well.
Weeks and weeks of Clancy bending my ear about the joys of Super 8 had finally taken their toll, I climbed up into the loft at my Mum's house, rummaged around for a while and finally came across a baby Eumig projector, an old Cavalier editor, a splicer and handful of Standard 8 films. Ok so it was silent and only ran at 18fps, but we ran a newish trailer through it (an instantly forgettable piece of Disney claptrap) and this allowed me to discover just how good a real projected image could be. I had been turned; and it was time to do something about it.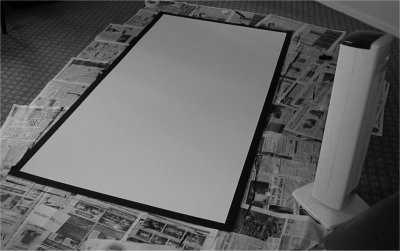 The next day Clancy spoke to his mate 'Wilton of Ealing' and managed to source me a projector that had recently been for sale at the BFCC. It was a Sankyo 600, mono sound, but substantially bigger and more robust than the Eumig. Next I needed a screen; white matt emulsion paint and a large flat object seemed like a very cost-effective route to follow. A quick trip to B&Q and for just under 10 pounds I was the proud new owner of a sheet of 8'x4' glossy white hardboard. Some trimming down with a jigsaw, a couple of coats of emulsion and then some skilful painting with black exterior matt paint and my masterpiece was almost complete. All that was left to do was cut up some artists black backing card to form the masking and then some carefully applied strips of Velcro to hold the masking in place, and voila!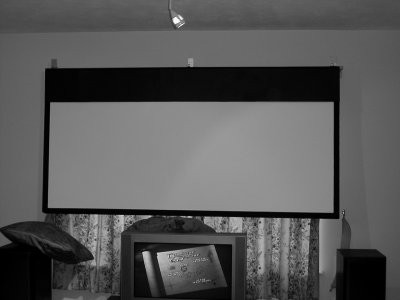 Next on my shopping list was an anamorphic lens, I flicked through some price lists, as my projector only cost me £45.00 I wasn't too keen on paying a three figure sum for a lens so I turned to searching the internet for something cheaper. Eventually I came across a Sankor lens on www.ebay.co.uk. Now I know what you are thinking, the word ebay seems to send a shudder down most film collectors spines, I just work to the old rule that if something seems too good to be true then it probably is and that has kept me fairly safe so far. I managed to win the lens for £30, I think I was lucky that day.
My super 8 starter system was complete and all for under £100! Now all I needed was something to watch on it, whilst I had been searching around the Internet looking for a lens it came to my attention how surprisingly buoyant the German super 8 collectors market is. I knew the films would be in German but I also knew that Clancy was very proud of the re-recording abilities (and maybe his own) of his Chinon SS1200 projector. After a few days I spotted a 2x400 print of Rollerball; as I have the DVD version of this movie I thought this was too good an opportunity to miss so I snapped it up right away for the princely sum of £30 including posting from Germany. When it arrived the boxes were in mint condition, the leaders were even still taped down, and it appeared that the film had never been run. Oh I was a happy bunny.
Since then I have purchased quite a few films including four 4x400ft features. The most expensive of these was £60. It just goes to show that having a real home cinema does not have to cost a fortune. I'm sure that in the future I will obtain some of the recent features I love on Super 8 (for example Star Wars, Alien, Jurassic Park, Terminator, Predator) but I think a good stereo machine beckons before that time.
AMG
8th February 2002
No flash in a dark room; Super8 is not the easiest thing to photograph!

My Equipment..ahem!