THE 46th BFCC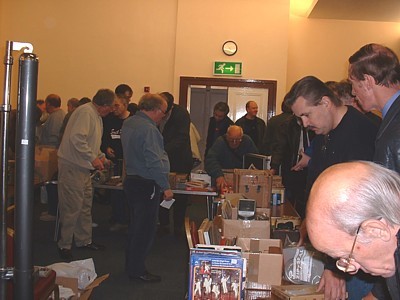 THE BRING & BUY. "Do you have the Walton 400ft of the wedding of Charles and Diana?"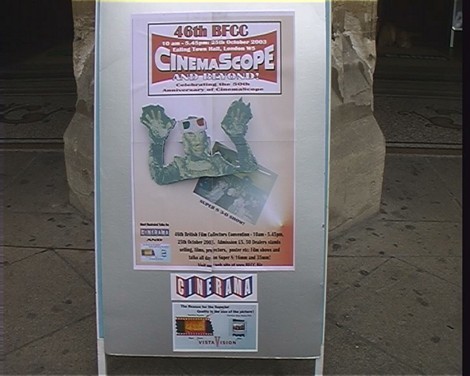 The Ealing Town Hall - an ideal destination for a collection of film collectors
We can't believe the reaction we have had to the 46th BFCC. So many people have let us know how much they enjoyed this event. With a film tribute to Gregory Peck, Technicolor CinemaScope 35mm, a technical Cinerama talk from historian Grant Lobban complete with example trailer from "How The West Was Won", some amazing new Super 8 releases from Derann and Classic, an 'outstanding' 3D show, a VistaVision talk from Ken Locke complete with examples released on 16mm and 35mm plus the usual two dealers halls seemed to provide something for everybody. Certainly all the shows were very well attended and those dealers we have spoken to reported a good day's trading. The new releases from Derann and Classic appear to have had the desired result of fuelling interest in the hobby as attendance to the BFCC's is still very good.
Although much smaller than the Victoria Hall used in the May events the Queens Hall, has the major advantage of making the 24 foot BFCC screen even more impactive. This is due to it virtually going wall to wall at the far end of the room. The front row of seats has to be pretty close otherwise it is not possible to seat all those wishing to see the shows (even then it is often very tight).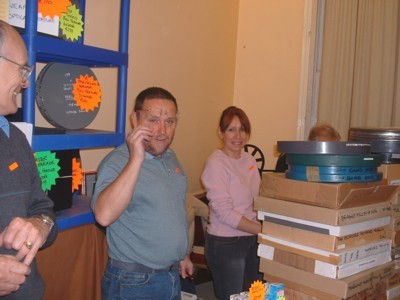 Ian of Perry's Movies says "hello".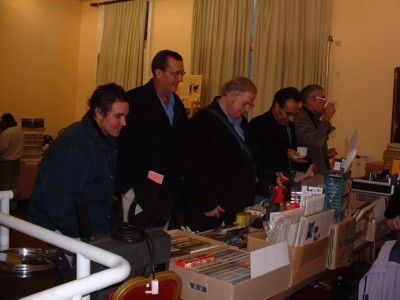 More collectors at the Bring & Buy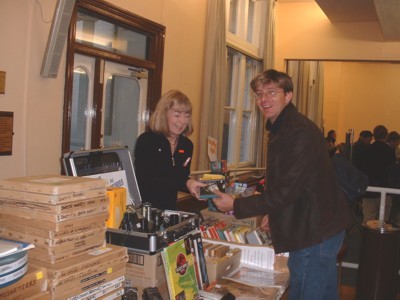 Brenda Hemstock with a delighted customer at the "Movie Magic" stand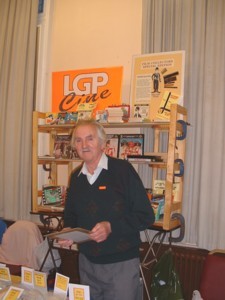 It's Larry Pearce of LGP Cine. And look carefully on the top shelf - YES, hiding behind a few film boxes it's the original, one and only Thermofilm film lubricant and cleaner.
The programmes for the 2004 British Film Collectors Conventions are already taking shape and both look set to be action packed, informative, educational events much akin to the 2003 events. Watch this web site.
Filmtek's latest DVD-R/VHS release 'Full Supporting Programme' went on sale on the day with extracts being shown in the reception. Sales are said to have gone very well and this and other Filmtek titles continue to be available as a mail order item from Filmtek.