THE 50th BFCC 22nd October 2005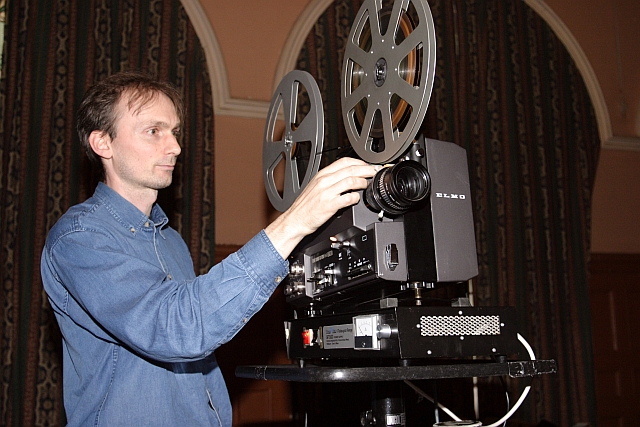 The GS-1200 with the conversion to HTI video projection lamp is about to be fired up. Prepare your sunglasses!
FILM SHOW NUMBER 5
14:00 The 'Scope Show
1. 'Scope intro - mono
2. This is Scope - stereo
3. Raider of the Lost Ark - surround
4. 'Scope 55 + Thunderball trailer - mono
5. Batman + The Fantastic Four trailer - mono
6. Master and Commander (reel 6) - surround
7. El Cid - mono - end of projector 2 reel

Switch to Projector 3 with HTI lamp conversion
8. Terminator 2 - surround
9. King Kong (2005) trailer - mono
10. Indiana Jones and the Last Crusade - surround
11. Matrix Reloaded freeway extract - surround

15:30 Presentations by BFCC organizer Keith Wilton to the UK's Super 8 film editors of the 70's and 80's and David Locke.

FILM SHOW NUMBER 6
15:45 35mm newsreel with the royal premiere of Silver Streak. (Silver Streak has been reported as the all time best selling title on Super 8. But we wouldn't put money on it!)

FILM SHOW NUMBER 7
16:00 The 70mm show by Ben Wales.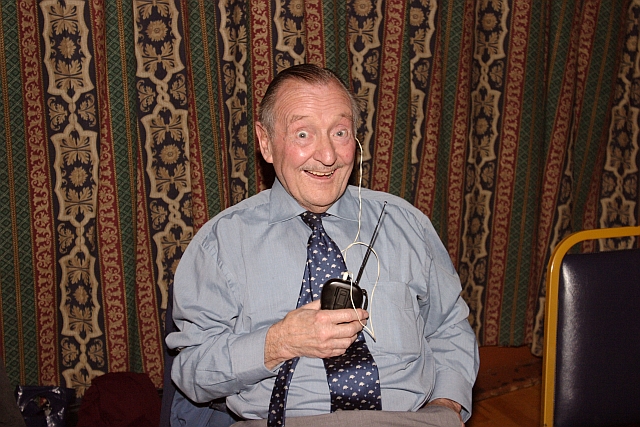 Such a great picture of long-time BFCC stalwart John Bird we had to print it. John is in his eighties now and had been very ill up to the day of the convention but still made it to be there with us. Well done John. He has the ear piece in as he's trying to get the score from his beloved football team Fulham. He's been a supporter man and boy and only ever misses a game if the BFCC is on.
SETTING UP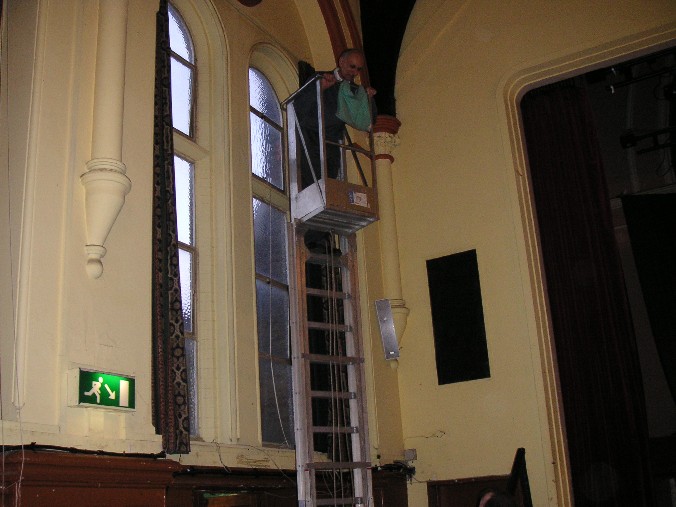 We're not letting you down until you start behaving yourself! Now do what you're told and close those damned curtains!

The screen is erected into position once more. This time it's collector Tony Milman to the rescue as Aggers has lost the instructions.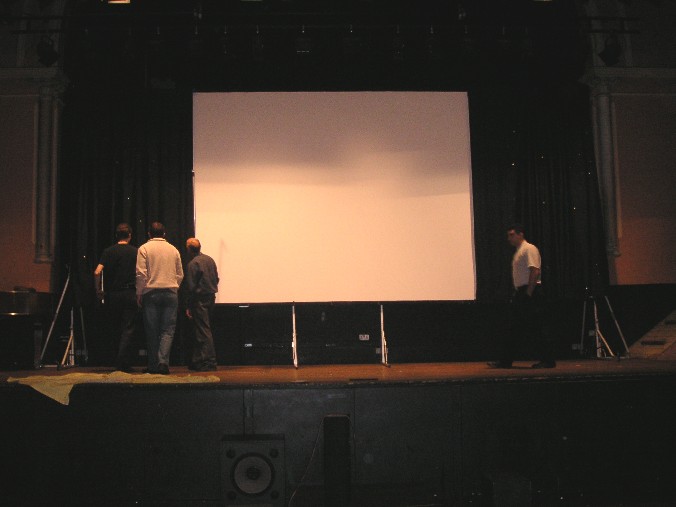 Here is the finished product in 'flat' mode. We're all over 7 feet tall which gives you some idea of scale.

NEXT
BACK
[HOME]&nbsp [NEWS]&nbsp [HISTORY]&nbsp [NEXT]&nbsp [PAST]&nbsp [HOME CINEMAS]&nbsp [GETTING STARTED]&nbsp [SUPER 8 FILM REVIEW]&nbsp [FILMTEK]&nbsp [LINKS]&nbsp [CONTACT US]&nbsp