THE 50th BFCC 22nd October 2005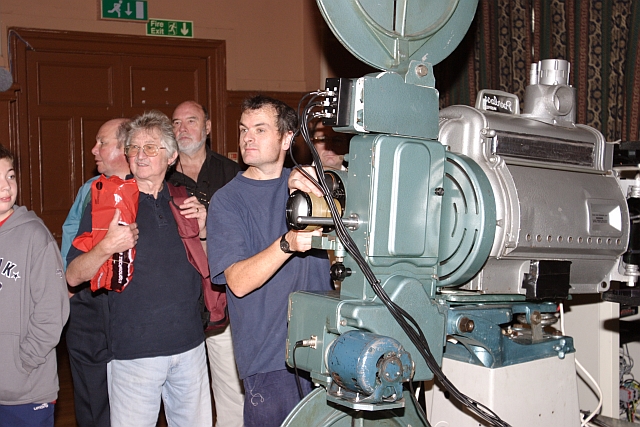 Ben Wales at the helm of his mighty dual 70/35mm projector.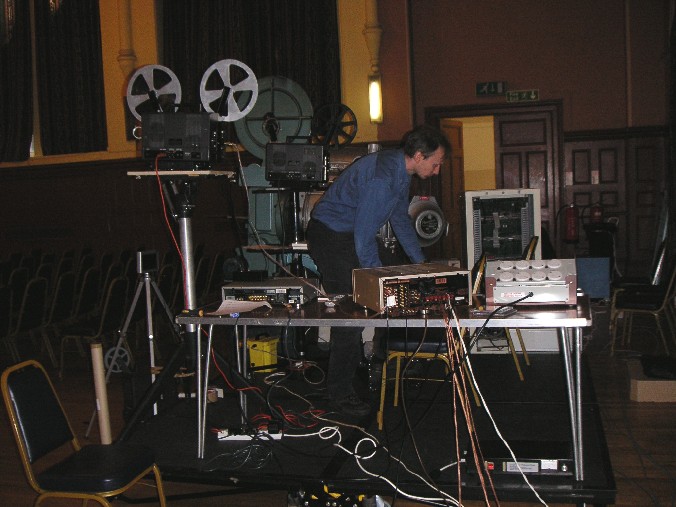 All that wonderful equipment. And there's 70mm behind that lot too.
FILM SHOW NUMBER 1
11:00 Eumig Demonstration film (18fps) using projector 1 - Elmo Xenon with 3 bladed shutter.
11:05 Vault Rake Programme: Projector 2 - Elmo Xenon with 2 bladed shutter.
1. Tom and Jerry: "Cat Napping"
2. The Other Film World
3. Jaws (Universal 8 200ft cut down - possibly the best 200ft digest ever)
4. Pepsi commercials
5. Dr. Who: Invasion Earth 2150AD
6. Cinerama trailer
7. Hovis commercial 1
8. Who Dares Wins extract
9. Dirty Mary Crazy Larry - extract from the excellent 400ft Ken release
10. Hovis commercial 2
11. Ilford Colour film commercial - possibly the worst advert ever made
12. Disney advert
13. The Weathered Melody (1942 cartoon from Germany)
14. Silk Cut commercial (Zulu take off)
15. Snow - classic railway film noted for film editing
FILM SHOW NUMBER 2
12:20 16mm prize winning home cinema film by Bryan Pearce
FILM SHOW NUMBER 3
12:30 "Where Are They Now?" Super 8 footage from the early days of the BFCC presented by David Locke.
FILM SHOW NUMBER 4
12:45 The sync' pulse show. "Jurassic Park" with Dolby Digital sound through the Pioneer/Kef THX system.
Details of film programmes continues on next page.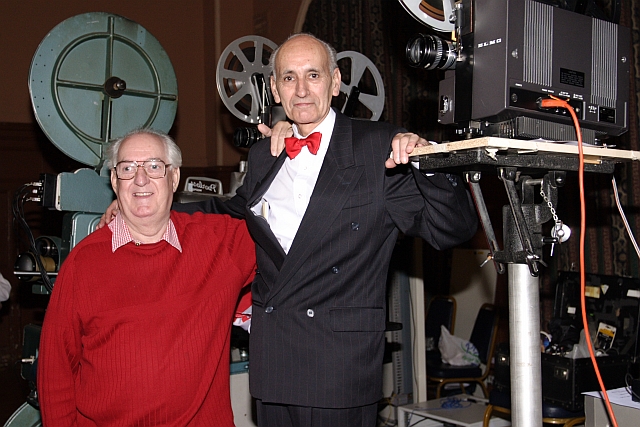 Geoff Wheeler, organizer of Big Screen Time at Tadley with Keith Wilton, organizer of the BFCC.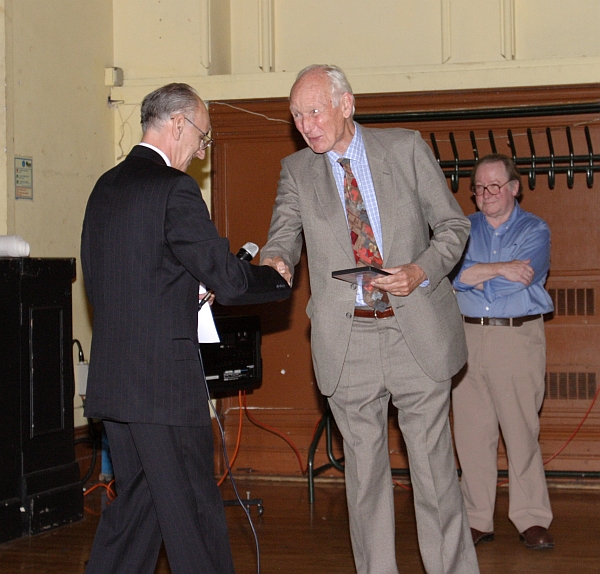 Film editor Alan Martin receiving an award for his role in giving us some of the best Super 8 cut-downs of the 70's and 80's.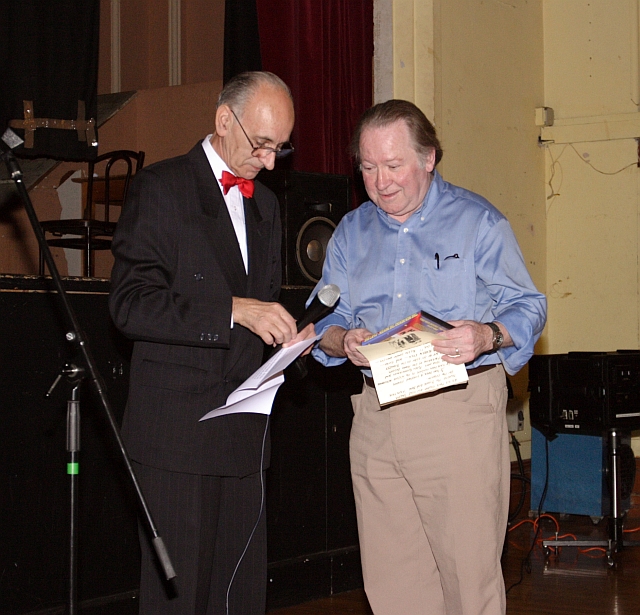 Film editor Ken Locke receiving his award for his work on Super 8 cut-downs and his role as lecturer and historian at the BFCC's and his excellent commentaries on the various video and DVD releases.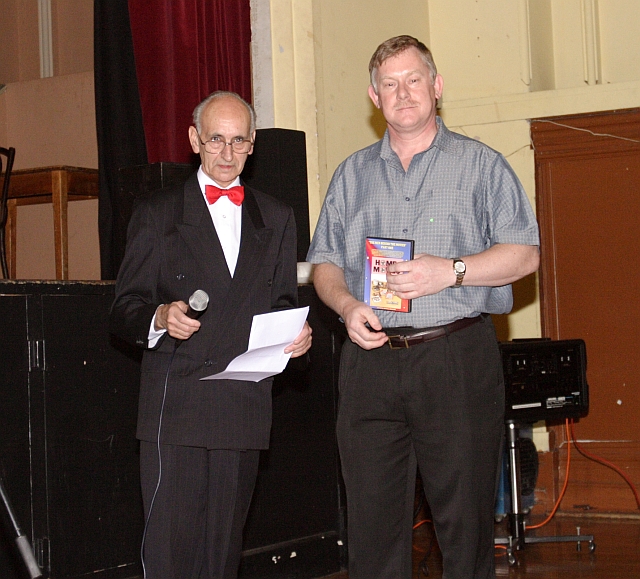 David Locke is also presented with an award for our gratitude in his role with the BFCC's from the earliest times.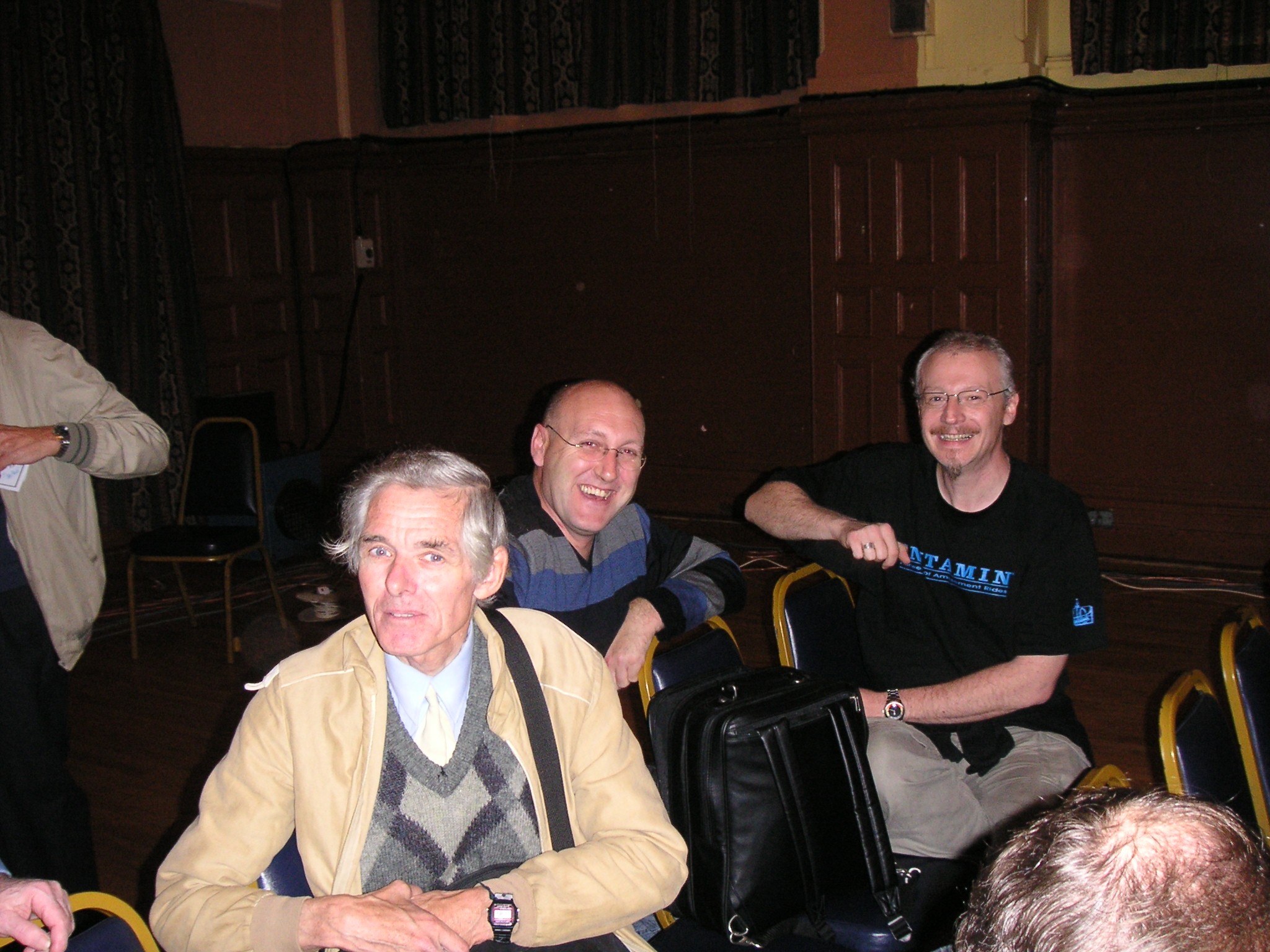 Grant Lobban, Craig Hamilton and Jean-Marc Toussaint. Jean-Marc again came over from France for the day via Eurostar. Our thanks to you Jean-Marc and your fellow countryman Daniel who came all the way from Lyon just for the BFCC and to celebrate Trafalgar Day with us. Good sports the French.
NEXT
BACK
[HOME]&nbsp [NEWS]&nbsp [HISTORY]&nbsp [NEXT]&nbsp [PAST]&nbsp [HOME CINEMAS]&nbsp [GETTING STARTED]&nbsp [SUPER 8 FILM REVIEW]&nbsp [FILMTEK]&nbsp [LINKS]&nbsp [CONTACT US]&nbsp