THE CUP FINAL OF CONVENTIONS
The BFCC is "the cup final of conventions" according to Reg Harding of Birmingham.
"What a find!" said a BFCC first-timer, "I've never been to an event where so much was going on all day."
Simon McConway stated in his email "A great atmosphere was present."
From Italy our friend from Milan, Giovanni Croce, wrote to say, "The 46th BFCC was fantastic! Will be in London again in 2004; please wait for us!"
From that man Duncan of Derann; "By all accounts the lads had an excellent day and send their thanks. Also, from what I have heard from customers it was a roaring success. Congratulations!" Thanks Duncan, Derek would have been pleased.
With even more favourable reports and comments on the 8mm forum (see 'Super 8 Links' page for URL) it looks as though all had a thoroughly good day.
We understand the smaller version of the BFCC north of Watford on the weekend of 15th/16th November was also a great success. Imitation is the best form of flattery. Well done to all at Derann!
For more details of the 46th BFCC and four pages of photographs click here.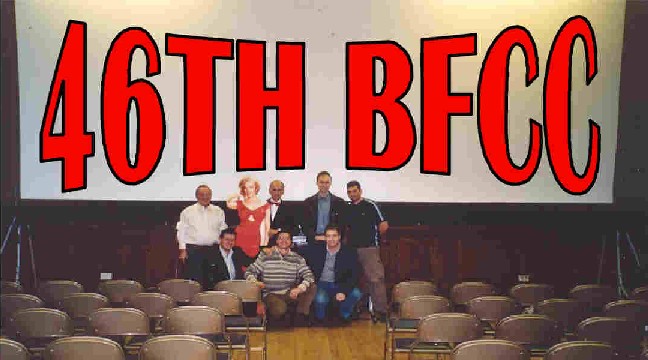 Back row: John Bird, Marilyn Monroe, Keith Wilton, John Clancy, Agnello Guarracino
Front Row: Our guests from Italy, Alberto Vangelisti, Giovanni Croce, Massimo Dalla Pria