SUPER 8 FILM REVIEW
The following review was printed in the July 1992 issue of Super 8 Film Review.
PREDATOR 4x600ft 106 minutes Distributed by Derann
Something nasty stirs in the forest, something very nasty, so nasty in fact that even ex-Terminator Arnold Schwarzenegger beats a hasty retreat, pursued by whom or what? Since whatever it is skins itís victims and hangs them up until required one wonders if prison escapee Hannibal the Cannibal has perhaps made it to South America?
In fact there is little amusing about this totally gripping, but violent film that has an element of the original "The Thing From Another World" in it: a virtually indestructible alien creature which hunts down and destroys crack members of the military. The setting updated and transferred from the icy Arctic to the steamy climate of South America.
Schwarzenegger plays Major Alan "Dutch" Schaeffer, heading an elite squad sent into an unspecified South American country on a rescue mission to free American prisoners from guerrillas discovers several skinned bodies. Having found and attacked the guerrilla camp, only to discover the prisoners dead, are themselves hunted and killed one-by-one by a cunning, unseen, absolutely ruthless, fast moving, killing machine backed by technology far beyond that of its comparatively primitive victims. Itís not difficult here to draw a parallel with mankind hunting and killing for sport except in this case the elite core of ex-Vietnam veterans is a group pursued by a single hunter rather than the other way around.
The special effects are stunningly effective - the vision of the alien, chameleon-like merging into the green background of the forest is mesmeric and quite frightening. The deaths of the soldiers are bloody, sudden, violent - made all the more so by the superb print from Buck Motion Picture Labs plus an outstanding track (on our review copy) with terrific bass from Derann that I exploited to the full with the 6000 watts of Top Hat Club amplification (at the 23rd BFCC), taking full advantage of the huge bass speakers - a great many collectors commented on the picture and sound quality of this release, and quite rightly so! A professional film director telephoned after this event to echo these comments saying "it is amazing that this sort of quality is obtainable from Super 8.". So well done to both Buckís and Derann!
I didnít think Predator would be my sort of film, and like with so many recent releases of the bloody and violent type appearing on Super 8, was a somewhat reluctant viewer, but Iím glad I saw it and despite the violence found it totally absorbing. It is very exciting and the alien is most impressive. The final duel is nail-biting and comes complete with a truly explosive ending.
Fast moving and violent with top-rate picture and sound (in the A* class) and one that can easily be recommended for the right audience.
Print A* Sound A Keith Wilton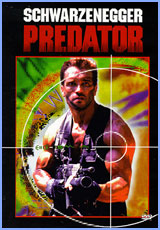 [HOME]&nbsp [NEWS]&nbsp [HISTORY]&nbsp [NEXT]&nbsp [PAST]&nbsp [HOME CINEMAS]&nbsp [GETTING STARTED]&nbsp [SUPER 8 FILM REVIEW]&nbsp [FILMTEK]&nbsp [LINKS]&nbsp [CONTACT US]&nbsp