BBC HOME MOVIE ROADSHOW - THE TRIALS AND TRIBULATIONS OF KEITH WILTON!
Keith Wilton has written about his involvement with this production in Derann's forthcoming 'Film For The Collector' magazine where you can read all about it within the 'Super 8 Film Review' pages. But the story does not end there and despite the production company just increasing Keith's payment from £12 to over £400 for having shown one of his films the final insult has just been dealt by screening the film with someone else's name on it! Now that would never happen at the BFCC!!!
It's a long story and if you don't already subscribe to Derann's film collecting rag then now is perhaps the time to do so. Derann can be contacted via the Super 8 Links page on this site. The photo below shows the chap on the right holding the very camera Keith used to film the Wombles section that was included in 'Home Movie Roadshow' - a standard 8 'Nizo Heliomatic Focovario 8' (that Wilton is such a show-off!). The gal is holding a 'Minolta Zoom 8' another standard 8 camera.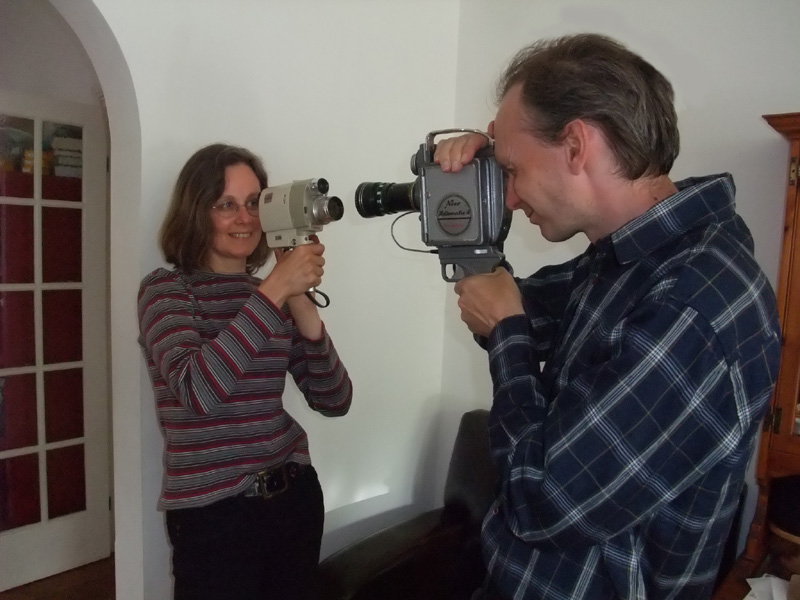 Finally, in case you haven't spotted it yet, the date for the next BFCC has been confirmed as 14th May 2011 at the Winston Churchill Hall in Ruislip. Check the Next Event page.
[HOME]&nbsp [NEWS]&nbsp [HISTORY]&nbsp [NEXT]&nbsp [PAST]&nbsp [HOME CINEMAS]&nbsp [GETTING STARTED]&nbsp [SUPER 8 FILM REVIEW]&nbsp [FILMTEK]&nbsp [LINKS]&nbsp [CONTACT US]&nbsp