DIE HARD 5x600ft 131 minutes colour sound 'Scope Distributed by Derann
I really shouldn't be given the job of reviewing this film. I am not the man to do it. And I warn you now, what follows is not an unbiased review. I make no secret of it. I think 'Die Hard' is one of the greatest action movies of all time. Now if I then go on to say that Derann's 'Scope print of it is magnificent and that the stereo soundtrack is superb, what is there left to say? Plot - New York cop visits Los Angeles to spend Christmas with estranged wife and becomes embroiled in a terrorist take-over of the huge tower block housing the wife's corporation. In essence I suppose it's a kind of "Towering Inferno" crossed with a vertical "Posieden Adventure" but with more thrills and humour than either movie. If you like this kind of thing you cannot be without this release. And if you don't like this kind of thing, I lay you ten to one you'll still enjoy it. Gratuitous violence yes but served up with such verve, wit and sophistication that even Keith Wilton liked it* and you know how squeamish he is.
Sorry this review is so short but why waste time writing about a film when you can watch it.
Print A* Sound A* John Kane
* I can confirm J.K.'s comments on 'Die Hard'. This print is certainly A* class (as witnessed at the 21st BFCC) and the stereo sound (no one will ever hear it at home quite like they did at the Top Hat Club with its 6000 watts of amplification) version is well worth the extra money if you have a suitable projector. The stereo separation on Derann's recording has improved considerably of late. That, added to the excellent sound quality (and noisy content) of this release gives it a sonic impact not often available on commercial 8mm. But beware: the language does make it totally unsuitable for family viewing - such is the fidelity of the track you hear every single ****!!! word! Otherwise highly recommended. Keith Wilton.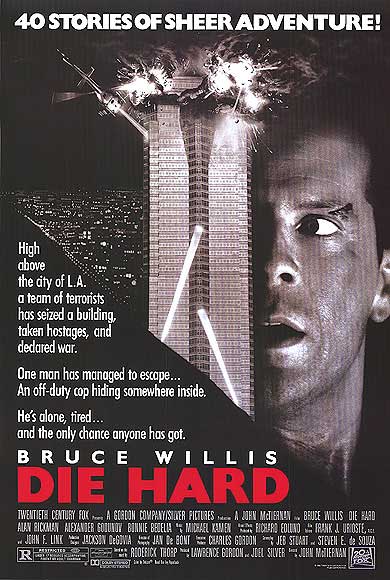 [HOME]&nbsp [NEWS]&nbsp [HISTORY]&nbsp [NEXT]&nbsp [PAST]&nbsp [HOME CINEMAS]&nbsp [GETTING STARTED]&nbsp [SUPER 8 FILM REVIEW]&nbsp [FILMTEK]&nbsp [LINKS]&nbsp [CONTACT US]&nbsp