11.15 SATURDAY MORNING SHOW. SUPER 8 ADVERTS, CARTOONS, TRAILERS & NEWSREELS
12PM CLASSIC HOME CINEMA: NEW & RECENT SUPER 8 RELEASES
12.30 35MM SHOW: TRAILERS/ADVERTS ETC. COMPILED BY KEVIN WHEELAN.
1PM CINEMA CLOSED: VISIT THE DEALERS!
2PM 35MM SHOW: TRAILERS AND A NOSTALGIC EPISODE FROM 'THE ADVENTURES OF CAPTAIN MARVEL' COMPILED BY OMER YALINKILIC, BERLIN.
2.45 THE SUPER 8 'SCOPE SHOW: TRAILERS & 'SCOPE EXTRACTS.
3.30 16MM SHOW: PICCADILLY CIRCUS AT NIGHT IN 1957. ITEM LOANED BY RICHARD LANDES.
4PM 16MM SHOW: RARE VERSION OF "THE SNOWMAN" BUT WITH SOMETHING MISSING. CAN YOU SPOT IT? ITEM DONATED BY RICHARD LANDES.
WE INTENDED TO CONCLUDE WITH A 35MM TECHNOCOLOR REEL FROM 'ZULU' BUT OWING TO A BREAKDOWN THIS WILL BE HELD OVER IN THE HOPE OF SHOWING IT AT A 61ST BFCC.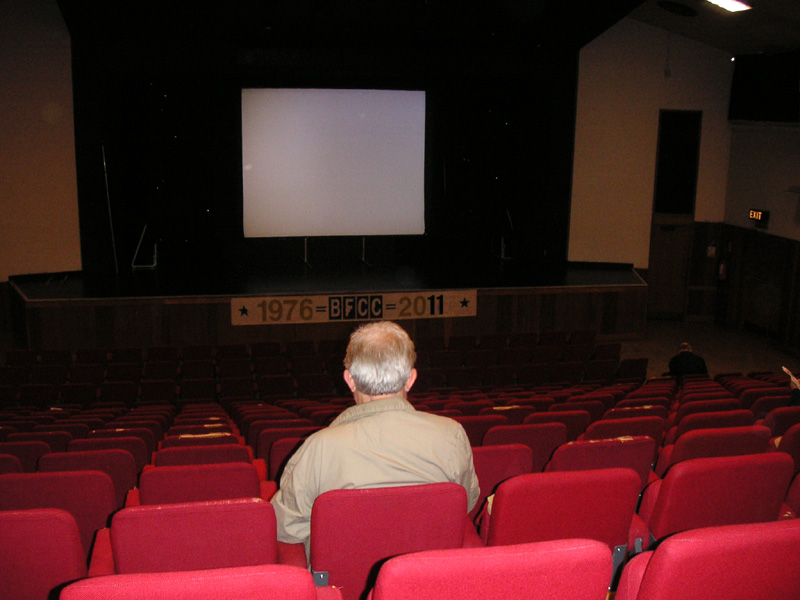 ANAGLYPH 3D IMAGES - RED & GREEN GLASSES REQUIRED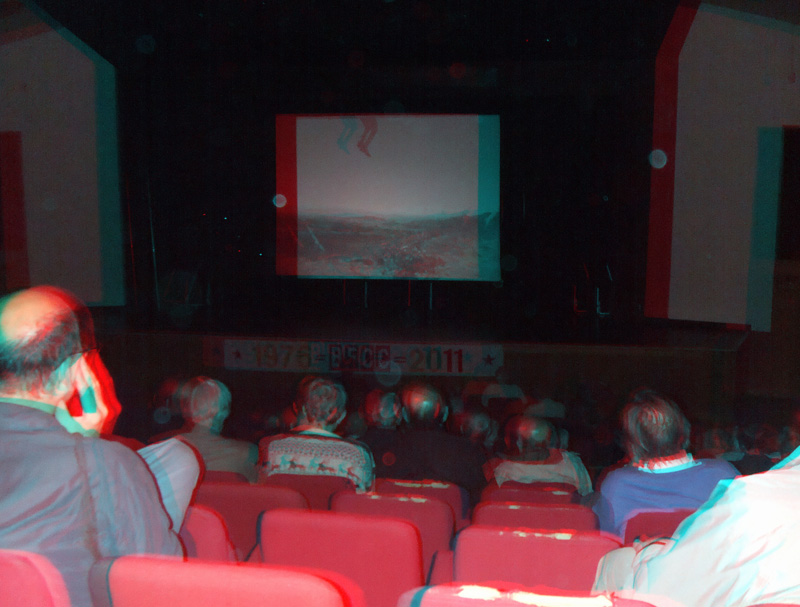 Red and Green anaglyph 3D glasses required for the outstanding photo above taken by 'Tiv'. Please note red and blue glasses don't work so well. Five more anaglyph 3D images below.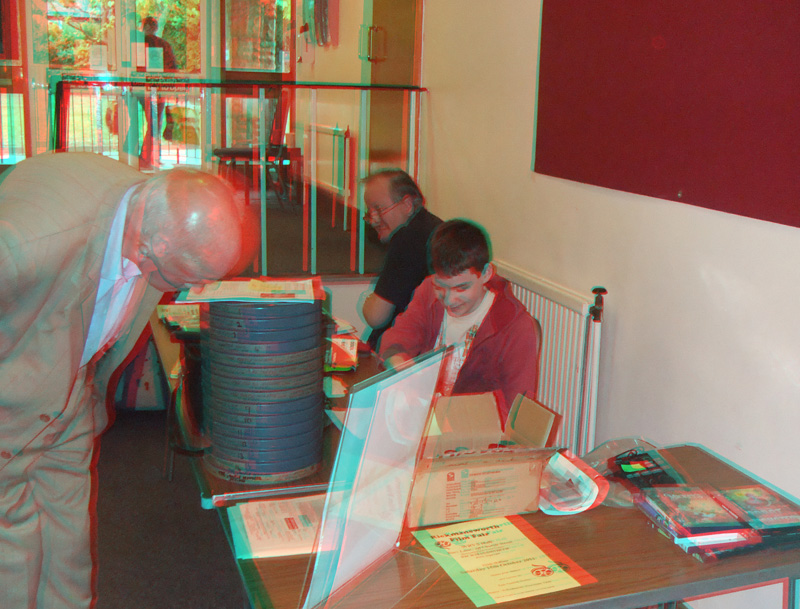 Bob Maynard and his son manning the ticket desk.

The fabulous auditorium again.

Regular visitor and friend of the BFCC, Paul Adsett from Florida which is located somewhere on the other side of the Atlantic!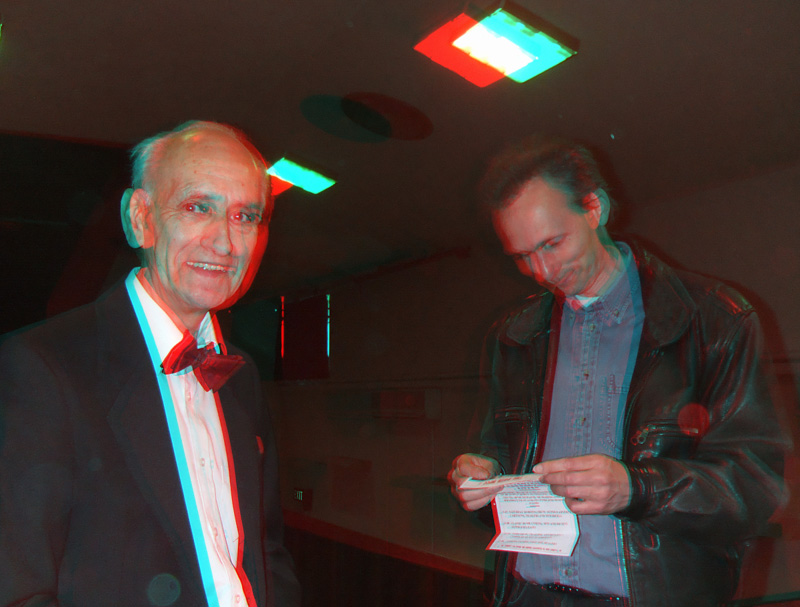 Convention organizer Keith Wilton with some extremely talented bloke to the right of him.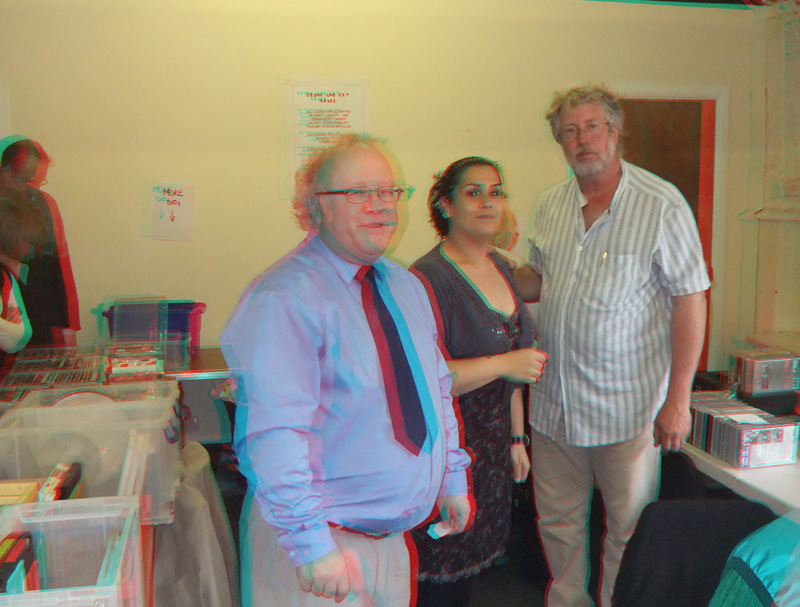 Patrick Moules and the Bring & Buy team.
NEXT PAGE OF PHOTOS FROM 60th BFCC HERE.
Return to the past events pages for photos, programmes and details from previous conventions.
[HOME]&nbsp [NEWS]&nbsp [HISTORY]&nbsp [NEXT]&nbsp [PAST]&nbsp [HOME CINEMAS]&nbsp [GETTING STARTED]&nbsp [SUPER 8 FILM REVIEW]&nbsp [FILMTEK]&nbsp [LINKS]&nbsp [CONTACT US]&nbsp